Silversmoke Pal Joey (23 Usual, ruddy, tawny)
Grand Champion Silversmoke Bill Davison x
UK & Imperial Grand Champion Silversmoke Spindrift
Joey sadly lost his battle for life on 23rd January 2017 when his heart gave out.
He was the most loving, dribbly soppy Aby who kitten sat at every opportunity.
He was a true heart breaker as are ours.
Joey was a lovely boy who was intended to stay here as a stud but managed to inhale
a shred of carpet fringe playing hide and seek under a rug when still a very young kitten.
This lodged in his lung and led to broncho-pneumonia, he spent several days in an oxygen tent
at our wonderful vets and we were very lucky to save him.
He was left with lung scarring which caused a noisy cough and breathing
so he was neutered and stayed here anyway.
He couldn't be shown because of his (obviously non-infectious) cough
but his temperament was wonderful and, as you can see, he was beautiful!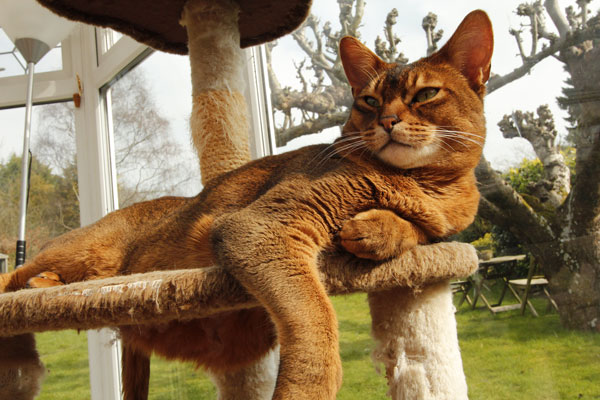 Joey with his own built-in hammock!